Farm-to-Table Dinner: Thursday, October 5th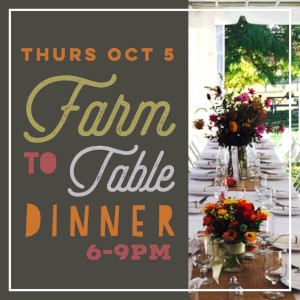 The Friends of Hilltop Hanover Farm & Environmental Center cordially invite you and guests to a Farm-to-Table dinner in honor of Brett Alcaro. The evening will feature seasonal, small plates created by local chefs, paired with wine, local beer and cider.
Each year we celebrate the life of our dear friend and farmer Brett Alcaro who passed away two years ago at the age of 37. We honor his commitment to farming and to feeding the community. Proceeds benefit a farm scholarship fund in his name and a donation of 25% towards a college fund for his two young sons.
Join us for an evening featuring fresh local food from our farm, local farms, chefs, restaurants and artisans including: Broken Bow Brewery, Harvest Moon Farm & Orchard, Suburban Wines, Ladle of Love, Cafe of Love, Bella Cucina Maria, Sweet Grass Grill, Tomatillo, Red Zebra, Hudson Milk Co, Spices & Seasons, Simply Hailee, Pound Ridge Organics, Good Choice Kitchen, The Ardent Homesteader and The Blue Pig - more chefs and farmers to come. Flowers by Heather Maguire Floral Design.
Exciting silent auction including a gift certificate to test drive a Tesla for 24 hours!
Thank you to our dinner sponsors - Fidelity Investments, Banks Wealth Partners - Ameriprise Financial Services and Re/Max Ace Realty who will offer hot air balloon rides (weather permitting and at additional cost).
Click here to purchase tickets
Fall Fest: Saturday-Monday, October 7th-9th 10-5 pm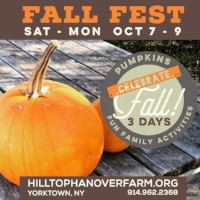 An entire weekend of farm fun! Enjoy a great assortment of our autumnal harvest, pumpkin picking, and other family activities to celebrate the fall! More details to be announced at a later date.
Square Dance: Saturday, October 7th 4:30-7 pm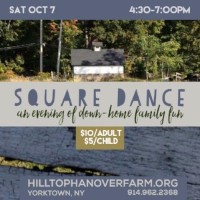 Bring your dancing shoes & join us Saturday night for an evening full of down-home family fun!  Dancing will occur between 4:30-5:30 and 6:00-7:00 with a half hour dinner break.
CSA Potluck: Thursday, October 19th 6-8 pm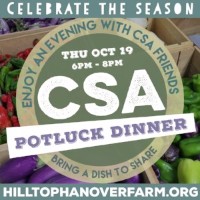 Help us celebrate another successful season of the CSA coming to a close. Bring an appetizer, main dish, or dessert, to share and enjoy a joyous night at Hilltop Hanover Farm. 
Thanksgiving Day Box: Tuesday, November 21st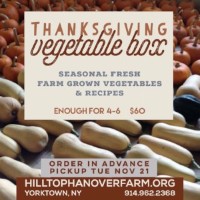 Get tickets for your own Thanksgiving in a box.  Creating a seasonal, local Thanksgiving table doesn't have to mean running around to many markets for your ingredients.  Save yourself some trips and get all the vegetables you need in one place.  We grow your seasonal favorites using organic methods and will have enough veggies for side dishes to amply serve 4-6 people. Together with a small book of recipes chosen by the staff and volunteers, your vegetables presented in Hilltop Hanover Farm totes, will be ready for pick-up on the Tuesday prior to Thanksgiving from 10 AM - 5PM.
Holiday Potluck: Friday, December 8th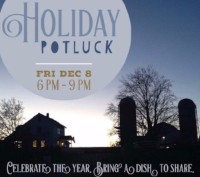 Please help us ring in the holiday season and celebrate the end of another successful growing season by attending our holiday potluck. It will be from 6-9 pm in the historic house. Bring a dish to share and some family and friends to enjoy a cheerful evening at Hilltop Hanover Farm!