Farm-to-Table Dinner: Thursday, October 5th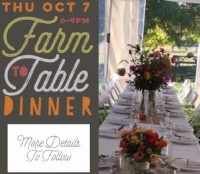 Join us for an evening of live music, farm fresh food, dancing and libations. Details coming, stay tune!!!!
Fall Fest: Saturday-Monday, October 7th-9th 10-5 pm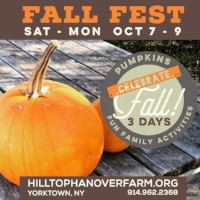 An entire weekend of farm fun! Enjoy a great assortment of our autumnal harvest, pumpkin picking, and other family activities to celebrate the fall! More details to be announced at a later date.
Square Dance: Saturday, October 7th 4:30-7 pm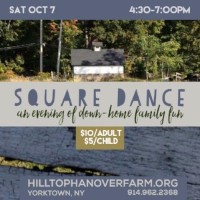 Bring your dancing shoes & join us Saturday night for an evening full of down-home family fun!  Dancing will occur between 4:30-5:30 and 6:00-7:00 with a half hour dinner break.
CSA Potluck: Thursday, October 19th 6-8 pm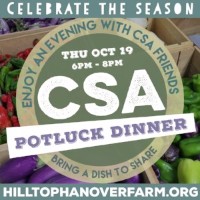 Help us celebrate another successful season of the CSA coming to a close. Bring an appetizer, main dish, or dessert, to share and enjoy a joyous night at Hilltop Hanover Farm. 
Thanksgiving Day Box: Tuesday, November 21st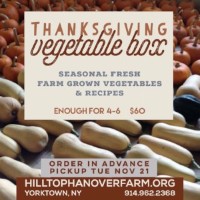 Get tickets for your own Thanksgiving in a box.  Creating a seasonal, local Thanksgiving table doesn't have to mean running around to many markets for your ingredients.  Save yourself some trips and get all the vegetables you need in one place.  We grow your seasonal favorites using organic methods and will have enough veggies for side dishes to amply serve 4-6 people. Together with a small book of recipes chosen by the staff and volunteers, your vegetables presented in Hilltop Hanover Farm totes, will be ready for pick-up on the Tuesday prior to Thanksgiving from 10 AM - 5PM.
Holiday Potluck: Monday, December 18th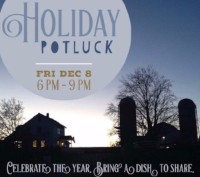 Please help us ring in the holiday season and celebrate the end of another successful growing season by attending our holiday potluck. It will be from 6-9 pm in the historic house. Bring a dish to share and some family and friends to enjoy a cheerful evening at Hilltop Hanover Farm!