Herbs for Health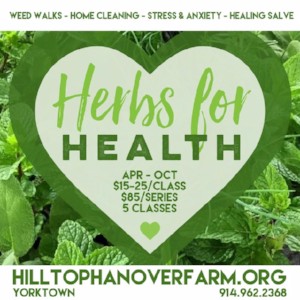 Cost for the Series: $85
Spring Cleaning DIY- April 1st 10-12:00 pm
Non-Toxic Green Cleaning Solutions for your Home.  Instead of spending money on harsh chemicals to clean your home that can be harmful to your family's health, come learn how to use simple, inexpensive, safe ingredients to make your own cleaning supplies.  You'll receive recipes as well as make one preparation to take home. Fee $20. Register Here
Spring Weed Walk - May 20th 10-12:00 pm
Spring is an excellent season to learn to identify delicious and healing wild plants. Join Bonnie Rogers on a weed walk around Hilltop Hanover Farm and learn firsthand the vast selection of spring weeds that are edible, nutritious, and medicinal.  We should find plantain, dandelion, violet, nettles, chickweed and so much more. You'll learn when and where to find and harvest these green gifts of nature, enjoy some delicious herbal tea and sample and received the recipe for a wild weed pesto. Fee $15. Register Here
How to make a Healing Herbal Salve- June 24th 10-12:00 pm
Herbal oils and salves are easy and fun to make at home, and can be readily used for the prevention and treatment of common aches and pains, cuts, scratches, bruises, rashes and more. These oils and salves can also be crafted to make your own face and body care products as well!
How do you get started making these products at home? Bonnie will guide you through:
how to make a safe and effective infused oil from fresh or dried plants

how to make a basic lotion, cream and salve.
Together in class we'll make a medicinal salve. You'll get to take home a jar and learn how to use it safely and effectively at home. Fee $25. Register Here
Fall Medicinal Weed Walk (Herb Walk)- September 23rd 10-12:00 pm
Fall is a great season to connect with herbs, plants and trees. This is the harvesting season where in the past people living  on the land would gather and collect all they needed for the coming winter season. On the herb tour we will walk around the farm at plants and herbs along the way. The herb walk will include the following: • Observation • Identification • Getting to know the plant: form, colour, smell, etc • Where it grows • Learning the plant's properties • How to use it e.g. tea, flower essence, etc • Questions & answers. Fee 15. Register Here
Herbs for Stress & Anxiety- October 21st 10-12:00 pm
Join us to discover how common weeds (medicinal plants) can support your mental and emotional health.   These medicinal herbs can support your nervous system, calm anxiety and ease depression in both adults and children.  You'll come away from this workshop with a list of plants that can be used for both everyday use and for acute issues and we will make a custom blend for you to take home with you.  Fee $25. Register Here