Welcome to our CSA/Farm Share program!
Joining the Hilltop Hanover Farm Community Supported Agriculture (CSA) Program is a mutually beneficial investment in the 2022 Growing Season. 
You are providing financial support for the farm upfront, before the growing even begins.  
CSA members, as investors, need to accept the natural risks that come with farming.  These include inclement weather, pest outbreaks or other circumstances that can affect the quality, quantity or variety of produce available in a season.  The dedicated and skilled farmers at Hilltop have worked diligently to provide a plentiful, consistent, and varied supply of locally grown fresh produce by developing production plans that are diversified and successional, mitigating some of the risk. But as CSA members, investing in the season, you are recognizing the challenges and are committing to sharing the risk with us.  
7-months of Farm Fresh Foods!
Our growing season starts at the end of April and lasts through Mid-November.
Take a look at our Harvest Calendar to see what types of veggies we grow and when they are available!  
Market Style!
Ours is a Market-Style CSA which allows you to buy the organically grown vegetables and regional products that you want, when you want them!  Your membership is a credit for the amount you select that can be used for any item sold in our farm stand or online store throughout the entire Season!
Convenience!
We offer two ways for you to shop!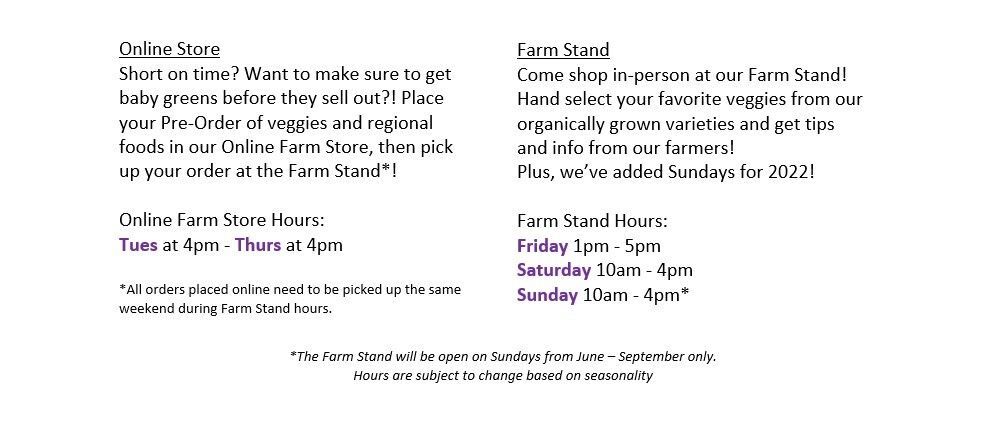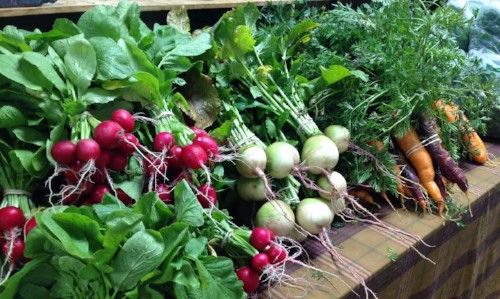 Physical CSA Cards!
You will receive a physical membership card, which will allow you to check your balance easily and gives you the choice to use the card or to give your name/email address when shopping in the Farm Stand.  Your card will be sent to you by mail in the beginning of April, before the Farm Store opens.
Benefits!
Each Hilltop CSA membership level includes these benefits:
Dedicated weekly e-news update & produce availability
10% off U-Pick produce all season long
10% off Educational Classes offered at Hilltop
Access to members-only discounts, specials & freebies in the Farm Stand
A CSA Investor monthly update from March through September, that includes progress on the vegetables as they are planted, grown and harvested along with any challenges that arise.
Please note: 
Classes and Events are not sold through the farm stand, therefore cannot be purchased using your CSA credit.
The Plant Pre-Sale runs from February – March, before the Farm Stand or online store opens, before your CSA Membership is active and therefore cannot be used for the Pre-Sale.  Once the Farm Stand opens, CSA Memberships can be used to buy plants. 
---
Announcing Our New Food Sovereignty Program
Hilltop Hanover Farm and Environmental Center is proud to introduce a new program to further our mission of addressing food insecurity. In 2021 we donated over 14,000 lbs of food to local food pantries like Feeding Westchester, but we need your help to do more. Over 75,000 people in Westchester County do not have access to reliable food systems this past year.
Please consider donating a Food Sovereignty Share!
Food Sovereignty Shares are a $100 CSA Membership that goes straight to a family in need. Anyone in need is free to apply to be a recipient of the program and shares will be awarded as they are donated. This amazing gift will help to provide people in need with access to local healthy organically grown vegetables!