Welcome to our CSA/Farm Share program!
Joining the Hilltop Hanover Farm Community Supported Agriculture (CSA) Program is a mutually beneficial investment. 
You are providing financial support for the farm upfront, before the growing even begins.  
CSA members, as investors, need to accept the natural risks that come with farming.  These include inclement weather, pest outbreaks or other circumstances that can affect the quality, quantity or variety of produce available in a season.  The dedicated and skilled farmers at Hilltop have worked diligently to provide a plentiful, consistent, and varied supply of locally grown fresh produce by developing production plans that are diversified and successional, mitigating some of the risk. But as CSA members, investing in the season, you are recognizing the challenges and are committing to sharing the risk with us.  
7-months of Farm Fresh Foods!
Our growing season starts at the end of April and lasts through Mid-November.
Take a look at our Harvest Calendar to see what types of veggies we grow and when they are available!  
Market Style!
Ours is a Market-Style CSA which allows you to buy the organically grown vegetables and regional products that you want, when you want them!  Your membership is a credit for the amount you select that can be used for any item sold in our farm stand throughout the entire Season!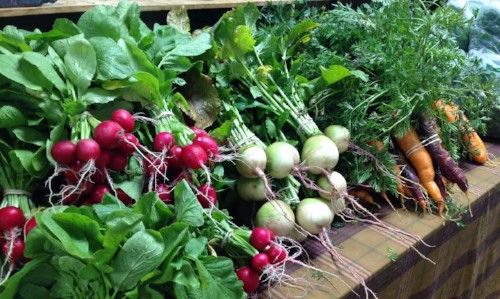 Details about our 2023 CSA program are coming soon! 
---