Summer Ceremony on the Hilltop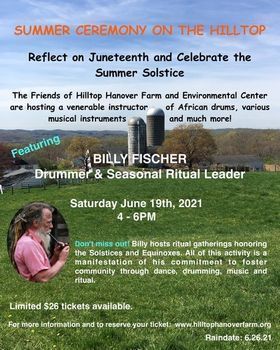 Join the Friends of Hilltop Hanover Farm and Environmental Center outdoors on the farm on this auspicious occasion when important events collide. Children are welcome. Let's learn about drumming, the seasonal change, and reflect on Juneteenth.
$26 admission, Free admission to children aged 10 and under, registration required.
The children can dance around us as we play drums and celebrate!
Covid clean musical instruments will be provided to the ticket holders.
Seating will be safely distanced and adhering to the farm Covid policy will be required.
Since this is an outdoor event, if there is to be bad weather, the rain date for this event will be the following Saturday, June 26, 2021 from 4 - 6pm.