The Sunflower Project
The Sunflower Project is designed to encourage gardeners to incorporate more bird-friendly plants in their backyards and demonstrate that a just few seeds planted in the backyard can easily and quickly bring added beauty, increased wildlife habitat, and greater ecological resilience to our yards and neighborhoods.
The National Garden Bureau has declared 2021 the Year of the Sunflower and we wholeheartedly support this decision! Join Hilltop Hanover Farm and Bedford Audubon in our effort to plant all of Westchester County with sunflowers this year. A robust species that thrive in tough sites, sunflowers will grow almost anywhere they get ample sun from well-tended gardens to neglected roadsides and vacant lots. Not only are they beautiful, but sunflowers are also easy to grow, provide pollen and nectar for native pollinators, and are one of the most nutritious foods for our resident bird populations.
Get involved with your family at home! 
The Sunflower Project Kickoff Activity: Curated Sunflower Seed Collection
Each collection includes seeds of four sunflower varieties that showcase the diversity of this spectacular annual flower. When you sow sunflowers in May, you can expect to enjoy the flowers in summer and let the birds enjoy the seeds in the fall.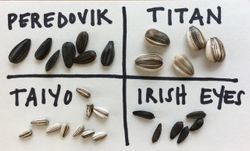 ---
Check back soon for information about upcoming Sunflower Project events:
June | Gardening for Wildlife Workshop with Bedford Audubon
August | Sunflower Days at Hilltop Hanover Farm
September | Harvest for the Birds Volunteer Day at Hilltop Hanover Farm
October-November | Seed Heads bird seed sale
The Sunflower Project is generously supported by The Bedford Garden Club.