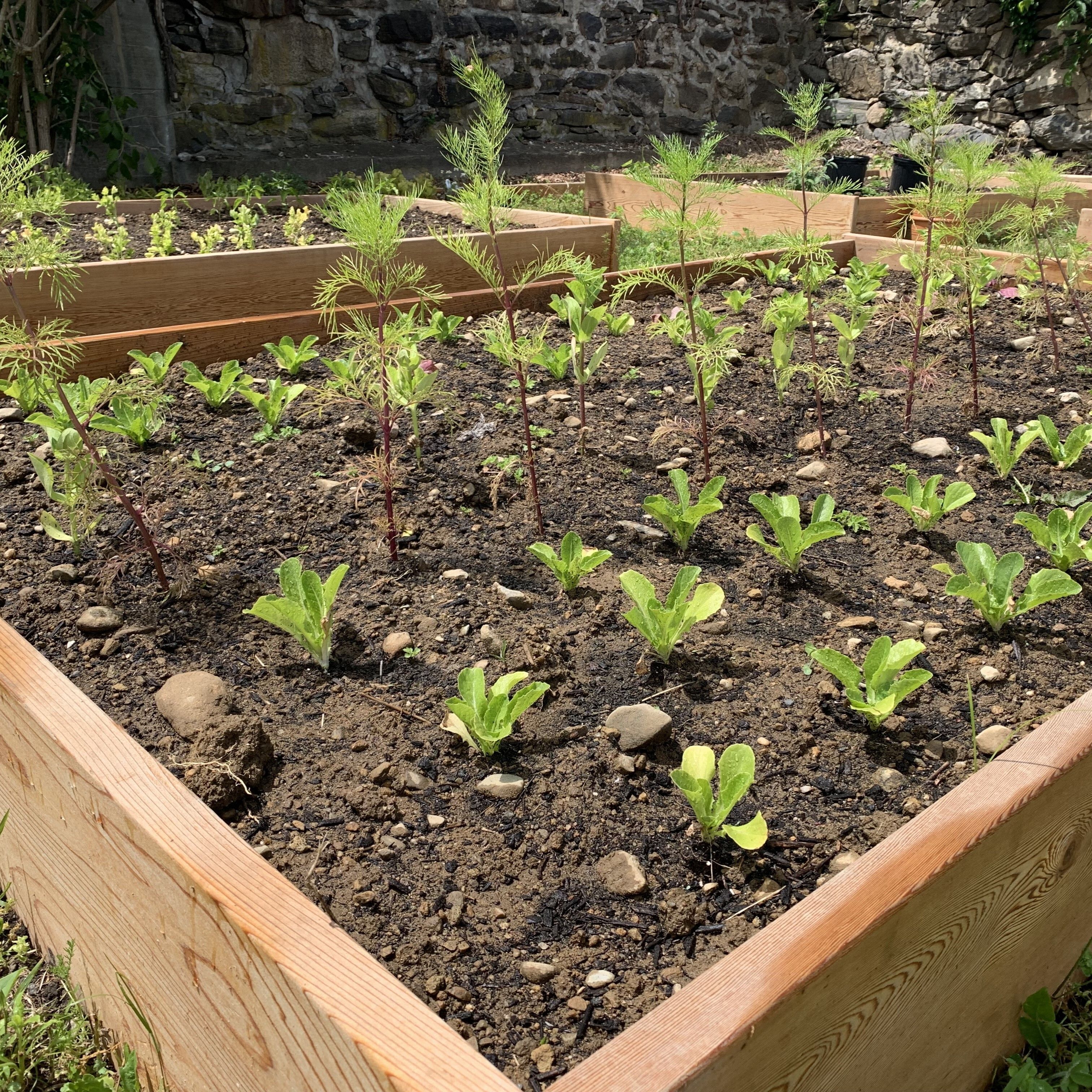 For many years, the Farm-at-Home Garden accompanying Hilltop Hanover's Historic House was a lively and vibrant source of additional herbs, flowers, and produce for the public to enjoy when they visited our farm. We see an urgent need for children's outdoor, environmental, hands-on education in a post-pandemic world, and to that end, we are reconstructing and expanding the garden, devoting over 1,000 square feet of raised bed space to the sensory exploration of organic vegetables, herbs, pollinators and creatures that live in the soil.
We worked hard to win much-needed grant funding from groups including our own local Yorktown Garden Club to rebuild, renovate and revitalize this space, and with the help of the County, we now have eight beautiful cedar raised beds ready to set into the soil! Starting next week, our kids Farm Team will begin planting the remaining tomatoes, tomatillos, flowers, summer squash, melons, and beans into beds they weed and water regularly! Later in the summer, Farm Team will harvest for eating and donation from these same plants. (Sound fun? Register online and join us!)
Students will find a special space to work side by side on repeat visits to keep the garden productive and healthy, taste the fruits of their labors, and serve the community by harvesting vegetables to eat and donate. Already, groups of middle schoolers like those from Avenues the World School in Manhattan have weeded, watered and planted our lettuce, herbs, celery, flowers, and eggplants, kindergarteners from Thomas Jefferson Elementary Middle School in Lakeland planted and watered our brassicas. Various birthday parties have added their hands to the planting, too!
Every one of the thousands of students who visits the farm each school year will have the chance to explore, taste, smell, and touch without boundaries in this Education Garden: while groups visit the fields and greenhouses, we do limit their interaction with our crops so we have enough market-ready produce to sell in our farm stand. Here, in the Education garden, students will be the ones to plant, weed, water, and harvest the vegetables and herbs, contributing to the success of the garden and creating a living community project to be enjoyed by all!