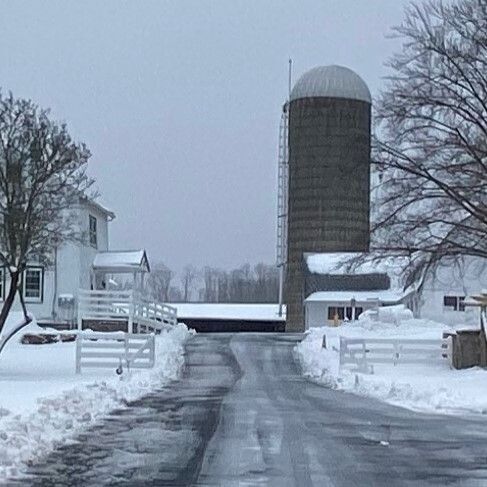 Winter has kept up its momentum here as staff still work through the daylight and dark, though now we race to beat the afternoon sunset rather than the morning sunrise. Like many places, the winter is a time of preparation so that the growing season starts off on the right foot. We have been busy all across the hilltop, from cooking our compost system, to renovating structures and cleaning the perimeters of trash and invasives.

Fresh Vegetables and Flowers
Staff and volunteers are working hard to reinforce and clean our greenhouse and high tunnel, which are crucial to ensure there is produce as soon as possible. Seeds are starting to be sown and organically raised vegetables will be ready for enjoyment in May when the Farm Stand re-opens, stocked with freshly harvested produce alongside curated offerings from local and regional food partners. We are so excited to continue evolving what types of goodies can be purchased here and hope our customers will enjoy this year's items.
Our annual Spring Plant Sale is a popular way to provide lovingly-grown Hilltop vegetable + flower seedlings for your own space, already hardy and primed for success, and we are thrilled to have your preorders steadily rolling in. We have already started hand-writing the thousands of labels needed for this endeavor and always welcome helpers, it's a great way to keep our hands busy until they can be back in the dirt!
Get Involved
We welcome our community to volunteer year-round and learn a little bit more about the farm's history and growing practices, with different opportunities each season. Saturday volunteer opportunities are offered as Community Work Days once a month, year-round, for bigger tasks that are easier with many hands. Our next CWD will be on 3/18, where we will focus on spring maintenance in the Tree for Tribs area; this exclusive and special activity is relatively easy for all to pitch in with, and really rewarding to see the difference our attention makes. We hope you can join us!
Regular Friday volunteer hours are currently offered as we tackle removing dormant invasives, weeds, and refuse along our pasture and field fences: with 10 acres of growing fields and 6 acres of pasture, that's a lot of fence to cover! Soak up the sun and join us as we make our way along these important boundaries. Other tasks might include indoor work such as cleaning, painting, and organizing areas to be ready for the spring bustle. Once plant life is back in the growing fields, we invite volunteers to join us as we weed, harvest, wash + pack up produce, and weed again! We can grow so much more with your help.
Native Plant Program
Winter is keeping our Native Plant program busy with seed cleaning and winter seed sowing, including cold stratifying. We wild-collected over 50 new native species, which will go towards new seed plots and Westchester County restoration projects in 2023. Most of the seeds are cleaned by hand, but we can now finish the process with our new seed winnower machine. Winter has not slowed down for this program at Hilltop! Fortunately, we have a great native plant team and a group of dedicated volunteers to get it all done.
Classes and Events
Winter education at Hilltop is mostly community-based. Prior to school visits picking back up, we focus on exploring the winter world with public offerings like guided hikes and navigation classes, building connections through crafting and music jam sessions, and sharing the wealth of knowledge of our farm team with visitors -- through seed and soup swaps, hands-on natives workshops, and soon, greenhouse and growing classes. We still fill the farm with youthful energy through homeschool groups and spring break camps, but mostly, we're waiting for the warmth to return, too!
We hope to see you at the farm soon!